INTERESTING FACT: According to the Istituto Nazionale Espresso Italiano, the brew time for an espresso shouldn't take any more than 25 to 30 seconds. That's half a minute tops for all the flavor and aroma compounds in the ground up coffee beans to extract into the cup.
This is why beans for espresso must be very finely ground. To get grinds that fine though, no ordinary coffee bean grinder will do.
Whether brewing espresso for family at home or thirsty patrons in a café, we're spilling the beans on espresso grinders - - how to select the right coffee grinder for espresso followed by our recommendations for the best espresso grinders.
WHAT TO LOOK FOR WHEN CHOOSING AN ESPRESSO GRINDER
Selecting the right espresso grinder ultimately boils down to your budget and personal preference.
Still, there's a few key factors to consider when shopping for an espresso grinder:
GRINDING POWER
Espresso grinders can be powered either by hand or by electric. Both have their virtues and drawbacks.
MANUAL ESPRESSO GRINDERS
PROS
Cheaper priced - lots easier on the pocket as a rule

Noticeably quieter - for disturbance-free grinding

No fuss - just load the roasted coffee beans and crank away

Portable design - smaller size, compact, lightweight, and rugged
CONS
Fewer settings - less able to make smaller tweaks to the grind size
Limited capacity - only up for grinding 1 or 2 shots at a time

Less convenient - require muscle so slower to grind and can be tiring
A hand espresso grinder is a popular choice for those just starting out in espresso craft. Or those who brew espresso only on occasions. Else those who want to enjoy their espresso on the go.
ELECTRIC ESPRESSO GRINDERS
PROS
Bigger batches - for brewing up several espressos at a time and back-to-back

More efficient - automated grinding is significantly less labor and time intensive

Better results - produce superior grinds

More adjustable - greater amount of settings to make tinier changes to the grind size

Extra features - often star a host of nice-to-haves such as a controllable digital display
CONS
Larger footprint - take up more space on the counter-top and in storage

Higher cost - more expensive in general

Learning curve - may require some instruction to use

Potentially noisier - can be rather loud if needing to use at odd hours
An automatic espresso grinder is for folks who can't get enough espresso. Or want maximum control over the grind. Otherwise, for the sheer convenience and efficiency.
Little wonder they're the preferred grinder of serious espresso enthusiasts and seasoned baristas alike.
GRINDING ACTION
Coffee grinders grind up whole roasted beans using either blades or burrs.
Blade grinders work by chopping up the beans. In the process, producing uneven grind sizes. Okay for regular coffee brews, sure, but absolutely not up to the job for espresso.
Burr grinders, on the other hand, crush beans between a stationary outer burr and a spinning inner burr. So the grind is more uniform and exact. Leading to an infinitely better-flavored espresso. The very reason burrs are the industry standard when it comes to espresso grinding.
The shape of the burrs, the material they're made of, and their size all affect grind quality to some degree or other. The motor speed of the grinder, if electric, has an impact too. By and large, the more powerful it is, the better the espresso.
BURR SHAPE
There are a couple main shapes of burr found in an espresso grinder. Though debate rages about which (if indeed either) is better, fact is, it's possible to make terrific tasting espresso with both.
CONICAL
The norm in budget espresso grinders. Conical burrs grind beans between a pair of nested cone-shaped rings. With coffee beans passing down through the burrs under the influence of gravity.
Conical burr grinders produce a bimodal particle size distribution. Basically, a mix of two grind sizes; powder-like particles known as 'fines' (or coffee dust) plus larger grinds.
In the main, conical burrs make for a more authentic espresso flavor profile. A concentrated, thicker brew with a rich body courtesy of the added fines. Sweetly flavorful complimented by notes of bitterness in the aftertaste.
PROS
More forgiving being easier to dial in and requiring less adjustment

More economical to buy

Can grind up to some 2200 lbs of beans before needing to be replaced

Generate less heat and noise due to their lower running speeds
CONS
Less precise and consistent grinding owing to varying grind sizes

Call for more frequent cleaning as more places where grounds can get stuck
FLAT
The most common type of burr overall. Flat burrs rely on centrifugal force so are usually only found in motorized coffee grinders. The burrs pulverize beans between opposing donut-shaped disks.
Flat burr grinders create a unimodal particle size distribution. A single grind size with minimal if any fines.
Thanks to which, flat burrs tend to bring about an espresso taste profile higher in clarity and complexity, and brighter. Less textured, but with a more velvety, longer lasting finish.
PROS
Prized for the most consistent grounds resulting in a more balanced extraction

Less hassle to clean and maintain since any trapped grounds are easier to reach
CONS
Dearer because they're precision manufacturing parts

Last a shorter time, only grinding approximately 1300 lbs of beans before having to be changed out

More fiddly to dial in shots and need more adjustment

Run hotter and louder due to higher motor speeds
BURR MATERIAL
The mainstream materials used in espresso grinder burrs are ceramic and steel.
Although some espresso burrs can also be coated to make them even tougher. And that stock burrs can sometimes be upgraded with aftermarket burrs.
CERAMIC
Ceramic burrs are more widespread in low-cost manual coffee grinders.
PROS
Not nearly as prone to wearing out (dulling) so retain their sharpness for a lot longer

Lower price tag

More heat resistant
CONS
Considerably less sharp with poorer edge holding ability

Turn out a good deal of coffee dust which can mask separate flavors in the espresso

Naturally brittle so can crack, chip, or shatter if, say, there are small stones among the beans.
STEEL
Steel burrs, those made of stainless steel or brushed carbon, are more familiar in higher end home grinders as well as commercial grade grinders.
PROS
Razor sharp edges give an unvarying grind with barely any fines for a cleaner tasting joe

Won't damage if hitting a hard foreign object mixed in with the beans or accidentally dropped during removal
CONS
More costly

Faster to heat up and slower to cool down risking the coffee oils burning (causing a bitter taste) and the grinds clumping

Less resilient to wear and tear so more likely to blunt over time
SSP
Hailed as game changers, South Korea's Sung Sim Precision uses customized software to create their steel-based burr sets. With SSP burrs Swiss-made and coatings for which manufactured in Germany.
PROS
Ultra high grind uniformity and preciseness

Advanced cutting teeth grind smoothly and minimize heat transfer

Can grind up roughly 10,000 lbs of beans and cope with bulk grinding
CONS
Pricey

Only available as an aftermarket option, and not that many espresso grinders compatible

Can be challenging and time-consuming to install and align, and the grinder may need to be modded
BURR SIZE
Espresso grinder burrs exist in an array of sizes. They're normally measured as the diameter of the outer burr.
Burrs in entry-level espresso grinders come in at about 40mm. In prosumer-level models, around 60mm. And 80mm upwards in a professional grade grinder.
On the whole, the bigger the burrs, the better they perform. In particular:
Speedier and cooler temperature grinding

Larger surface area enables more beans to be ground at once

Less adjustments to grind size required
But not forgetting that with more sizeable burrs, any deviations will be amplified. So minor changes and proper alignment of the burrs matter way more compared to a smaller burr set. Quite apart from a higher chance of grinds being retained.
For the most part though, larger burrs are better at preserving the flavors and aromas of the brewed espresso.
GRINDING ADJUSTABILITY
For espresso, a grinder has to be able to grind fine enough. That means the grind size range of the grinder should run from 250 to 400 microns. Generally, individual grinds sized less than 250 microns will be too fine for espresso and over 400 microns too coarse.
Besides which, it's just as crucial the grinder can make incremental adjustments to the size of the grinds within the espresso range. The greater the number of these mini adjustments there are, the more control over the fineness of the grinds.
In terms of grind settings, espresso grinders can be categorized as one of two sorts:
STEPPED GRINDERS
A stepped espresso grinder comes with predefined grind settings.
Making it easy and quick to switch from one grind size to another. With limited adjustments though, dialling in that precisely may not be doable.
Most appropriate, therefore, for newbie baristas or heavy duty coffee operations (especially those with a high staff turnover).
STEPLESS GRINDERS
A stepless espresso grinder has no preset grind levels; in other words, 'infinite' settings.
Meaning they can dial in very exactly to really fine-tune the size of the grinds. So dozens of espresso recipes can be covered. On the flip side, they're not plug and play.
Best then for more experienced espresso lovers.
WHICH IS THE BEST COFFEE GRINDER FOR ESPRESSO?
Here's our top 7+ picks of the best espresso grinders on the market today:
BEST BUDGET MANUAL ESPRESSO GRINDER
Sandbox Smart G1 Coffee Bean Grinder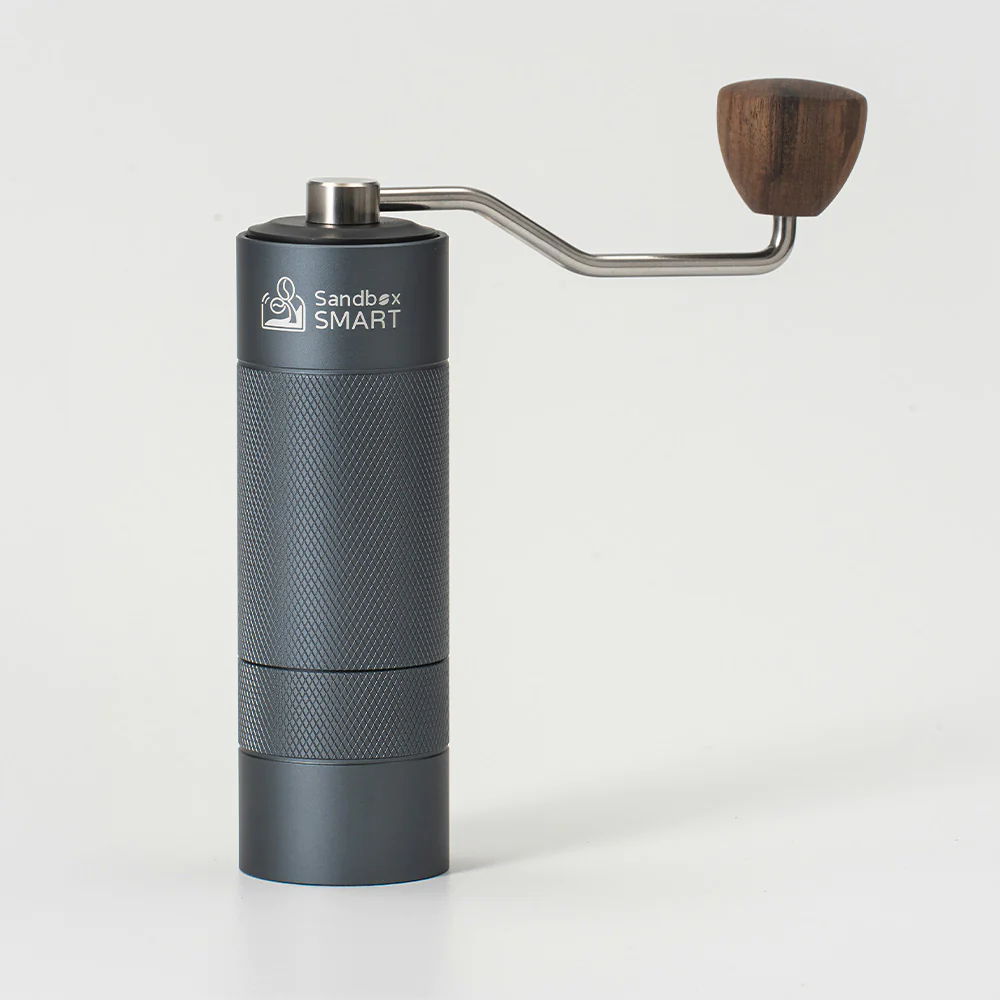 IN BRIEF
Prime Taiwanese craftsmanship at a tough-to-beat price. That's what you get with the Sandbox Smart G1 coffee grinder.
A sleek looking, solidly built mill with a precision engineered finish and fit that feels beautifully made.
Taking up little room, the device is good for brewing everything from French press and pour-over to, yes, even espresso.
Not to mention, remarkably intuitive to use so absolutely ideal for espresso grinding first timers.
Grind settings may be no-frills, but deliver impressive results.
All that and reassuringly hushed so you can break out the G1 at any time without disturbing a soul.
HIGHLIGHT FEATURES & BENEFITS
Hard-wearing, non-slip body gives durability and stays in the hand when grinding.

Natural wood turning knob with the entire handle detachable for easy storage.

Simple-to-load, big-volume bean chamber with screw-on compartment for the grounds.

Unique dual bearing design and 30 different grind levels ensure even and exact-sized grinds every time.

Quick disassembly, removable burr, and complimentary brush make cleaning a complete breeze.
KEY SPECIFICATIONS
Burr type: conical (pentagonal shaped)

Burr material: stainless steel

Burr diameter: 38 mm

Grind adjustment system: stepped

Dosing: single dose

Batch capacity: 1.3 oz

Body material: aluminum alloy

Body color: gray

Dimensions: 8" x 7.5" x 2.7"

Weight: 3.3 lbs

Manufacturer's warranty: 1 year
BEST PREMIUM MANUAL ESPRESSO GRINDER

IN BRIEF
Developed and produced in Germany, Kinu are renowned for hand coffee grinders. Their flagship M47 series counts the Classic grinder, and more recent Simplicity and Phoenix editions.
Despite calling for something of a splurge, they've become the go-to choice for folks who take their manual coffee grinding seriously.
M47's are versatile grinders well-suited to experimenting with a broad spectrum of brewing methods. Though stand out most grinding for espresso.
HIGHLIGHT FEATURES & BENEFITS
Proprietary Black Fusion-treated burrs stay sharper for longer.

Quad ball-bearing movement throughout for smooth grinding.

Coupled with steady grind settings for highly repeatable shots or brews.

Includes EVA hard case packed with high-density foam to protect the grinder when on the go.

Kinu M47 Classic - - Bean funnel and catch cup made from stainless steel instead of food-safe ABS. In addition to a grind adjuster with 'click feeling' sensation more like a stepped grinder. Heaviest and costliest, but the highest end and our number 1 seller.

Kinu M47 Simplicity - - Modeled on the original, but less hefty and slimmer with a simpler adjustment mechanism.

Kinu M47 Phoenix - - Silicone grip replaces the plastic thumb-stopper and makes handling more comfortable even for extended periods. But lacks the full-metal mechanics with auto-centring morse cone drive shaft alignment. Lightest and most affordable of the trio.
KEY SPECIFICATIONS
Burr type: conical

Burr material: stainless steel

Burr diameter: 47 mm

Grind adjustment system: stepless

Dosing: single dose

Batch capacity: 1.2 oz Simplicity and Classic, and 1.4 oz Phoenix

Body material: brass and aluminum

Body color: black and silver

Dimensions: 10" x 7.5" x 4.9"

Weight: 1.6 lbs Phoenix, 2.1 lbs Simplicity, and 2.6 lbs Classic

Manufacturer's warranty: 5 years
BEST BUDGET ELECTRIC ESPRESSO GRINDER FOR BEGINNERS
Baratza Encore ESP Espresso Grinder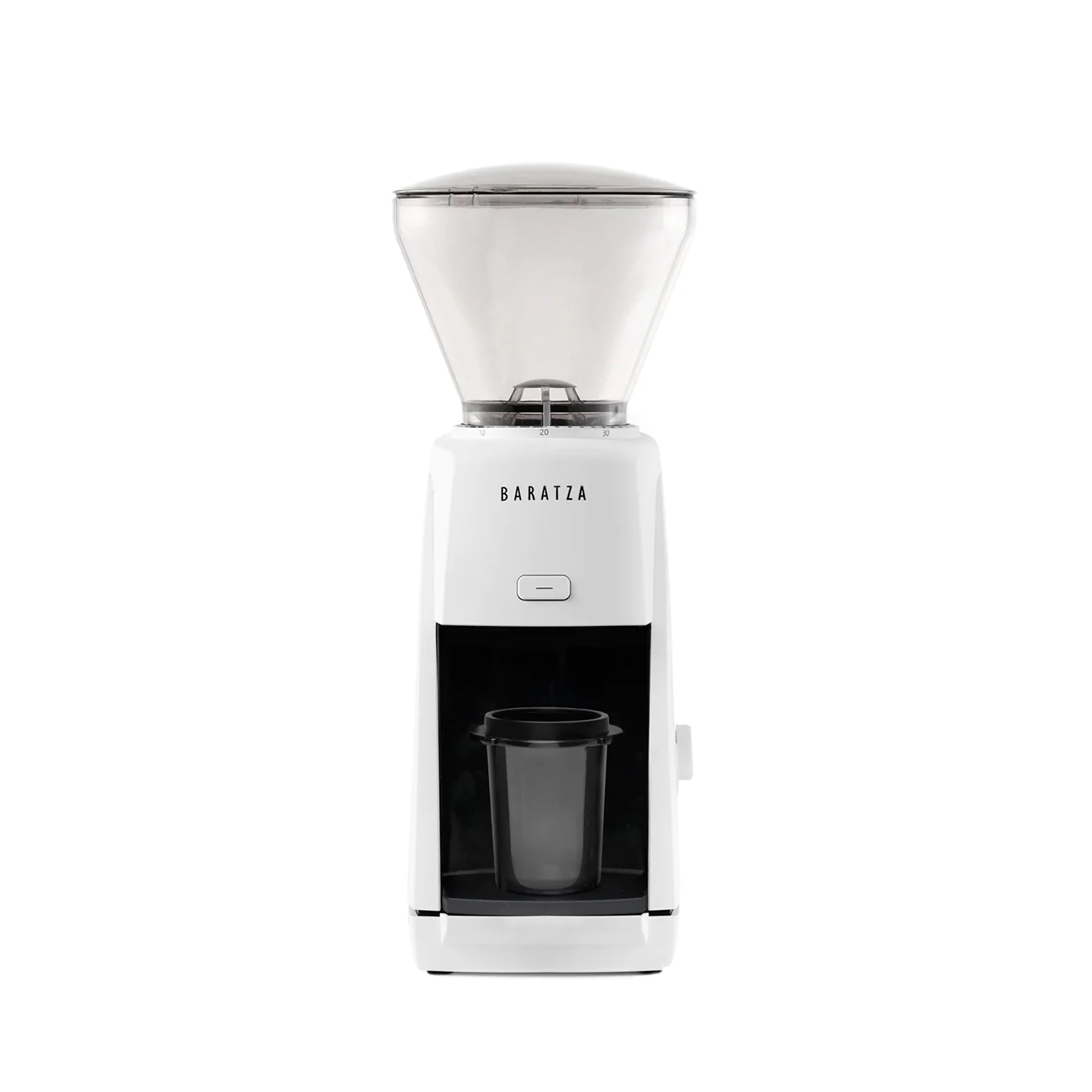 IN BRIEF
The newest addition to Baratza's award-winning line-up of coffee grinders, the ESP is their earlier Encore re-engineered for espresso and with added improvements.
Phenomenal value for money, it's a well-made true all-purpose coffee bean grinder.
Granted, the unit is slightly noisy and suffers from a bit of grind retention but it excels at pulling coffee shop style espresso shots.
HIGHLIGHT FEATURES & BENEFITS
Equipped with the Etzinger M2 burr set for excellent grind quality plus reduced heat build-up.

All-metal dual-threaded grind adjustment collar with a total of 40 grind settings - - jump between 20 micro-adjustments for espresso and as many again coarse enough for other brew methods.

Anti-static dosing cup for convenient transfer of grounds to 54 mm or, with the supplied adapter ring, 58 mm portafilter baskets - - streamlining the espresso making workflow and helping to keep work surfaces clear of mess.

Easily removable bean hopper, quick-release cone burr, and simpler reassembly mean effortless clean-up and maintenance.
KEY SPECIFICATIONS
Power: 120 V/70 W

Motor speed: 550 RPM

Burr type: conical

Burr material: hardened alloy steel

Burr diameter: 40 mm

Grind adjustment system: stepped

Dosing: hopper

Batch capacity: 8 oz

Body material: plastic

Body colors: black or white

Dimensions: 13.7" x 6.3" x 4.7"

Weight: 7 lbs

Manufacturer's warranty: 1 year
BEST PREMIUM ELECTRIC ESPRESSO GRINDER FOR BEGINNERS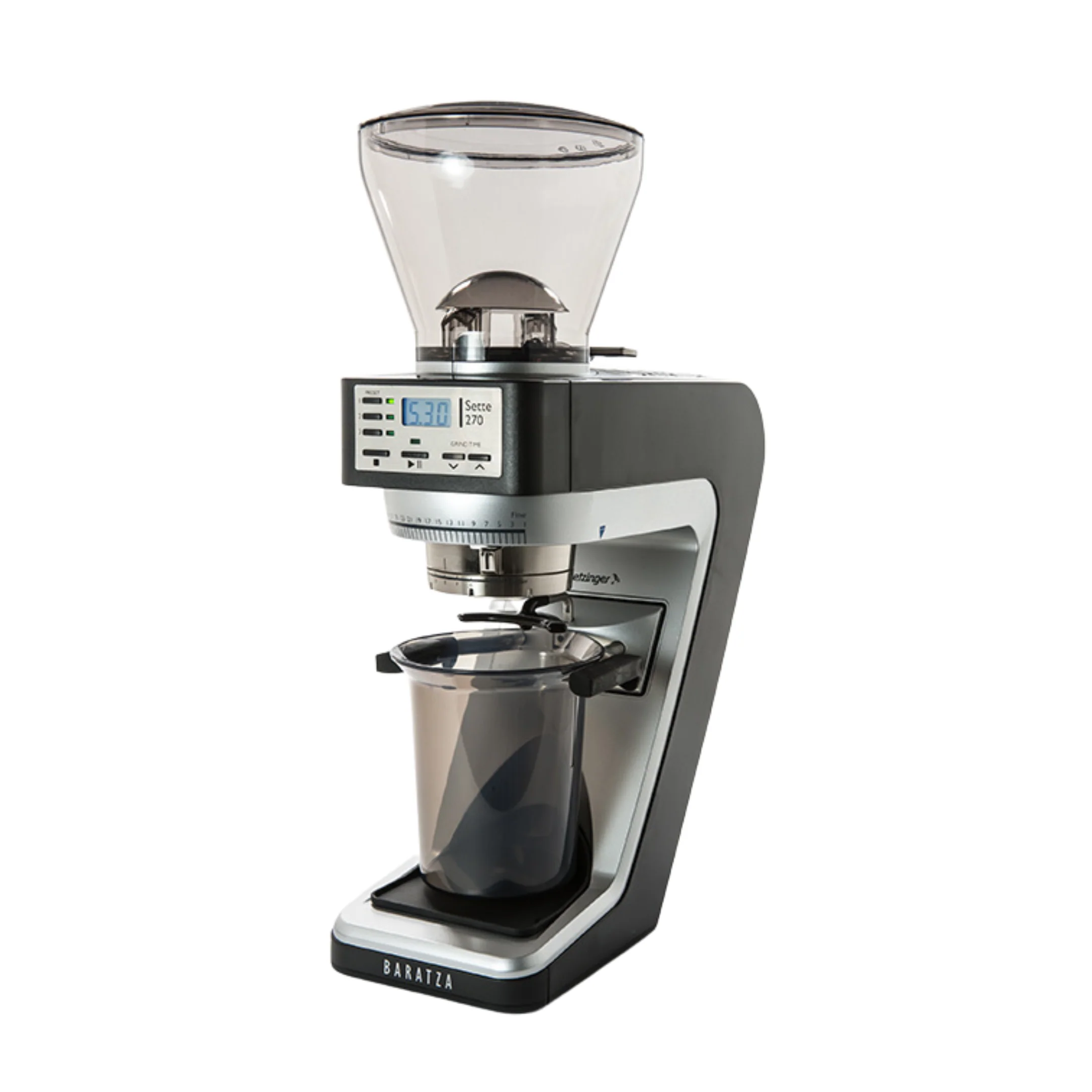 IN BRIEF
Boasting outstanding performance, it's hardly surprising the Sette 270 is our second best selling electric coffee grinder.
Sure, the device is a bit loud and not that cheap but it's made to last with parts easily replaceable. More than anything though, the 270 turns out some of the cleanest and sweetest flavored shots of any grinder.
HIGHLIGHT FEATURES & BENEFITS
One-of-a-kind inverted burr alignment makes for super speedy grinding, saving time and energy. As well as allowing for far more precise and responsive grind adjustments.
Innovative gearbox technology ensures close to zero grind retention meaning less waste and immediate grind changes. Coupled with a drop-out burr and no-tool disassembly so quick and easy to keep the grinder in good condition.

30 macro-adjustments and 9 micro-stepping settings offer 270+ grind sizes via a continuously adjustable dial.

Handy programmable dosing gives the option to save 3 grind times with repeat doses accurate to one tenth of a second.

Convertible holder with stabilizing hook enables grinding directly into a portafilter, other brew basket, or the included 4.2 oz grounds bin.
KEY SPECIFICATIONS
Power: 120 V/200 W

Motor speed: 650 RPM

Burr type: conical

Burr material: steel

Burr diameter: 40 mm

Grind adjustment system: stepped

Dosing: hopper

Batch capacity: 10.6 oz

Body material: plastic

Body color: black and silver

Dimensions: 15.8" x 9.5" x 5.3"

Weight: 7 lbs

Manufacturer's warranty: 1 year
BEST BUDGET ELECTRIC ESPRESSO GRINDER FOR THE HOME BARISTA/LIGHT COMMERCIAL USE
Eureka Mignon Specialita Espresso Grinder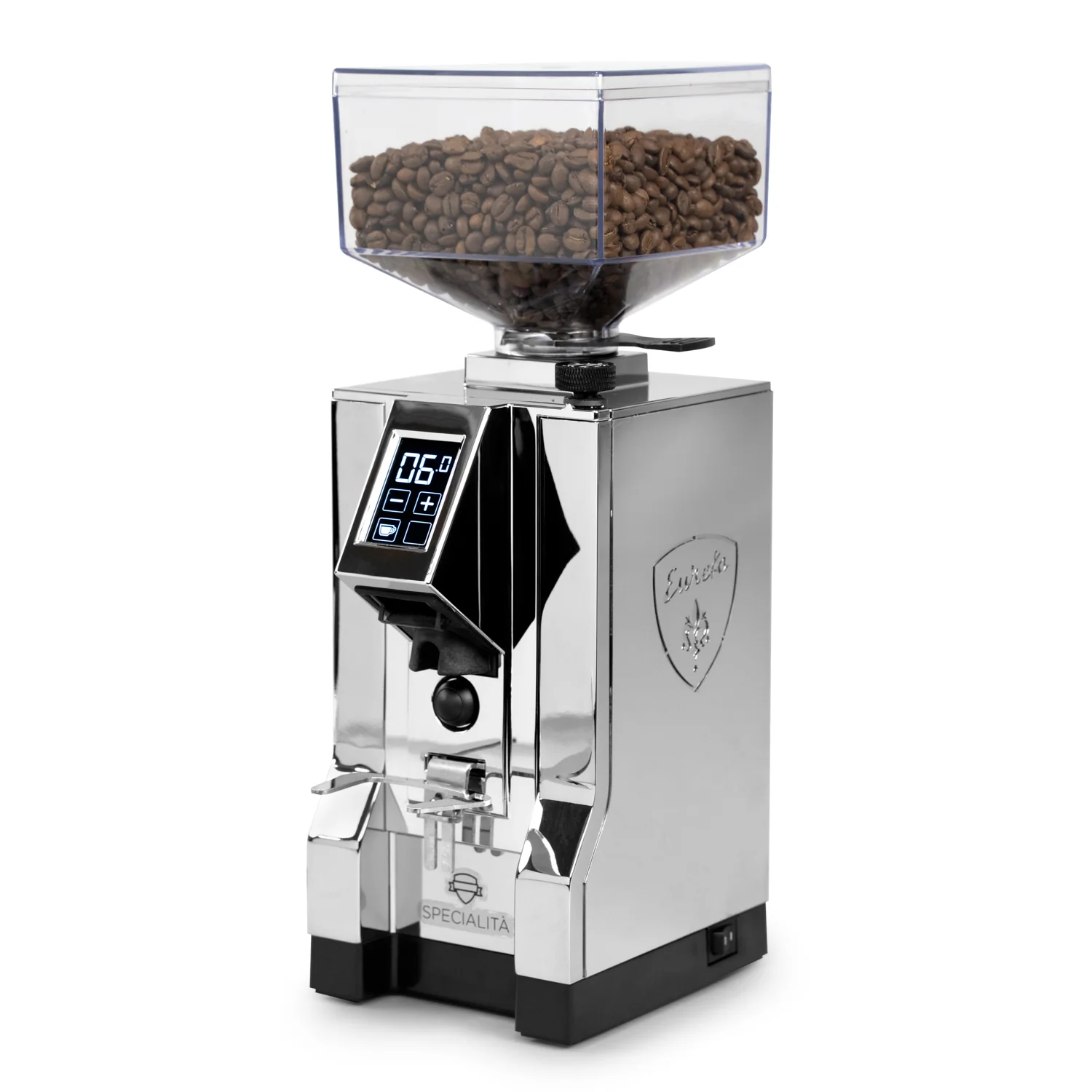 IN BRIEF
One of Italy's most celebrated coffee brands, Eureka has been making espresso grinders, and by hand at that, for over a century.
Expanding on their appropriately named Silenzio, the Specialita ticks all the boxes for the home barista and low volume commercial use.
Perfectly blending form and function, the grinder's outstandingly constructed yet has a small footprint. Shows off contemporary good looks, but fast to grind with superb consistency.
HIGHLIGHT FEATURES & BENEFITS
Dial-controlled grind configuration offers almost infinite adjustments for fine-tuning one espresso to another.

Revised wider exit chute results in lighter and fluffier grounds with next to no clumping.

Minimal grind retention makes it suitable for single coffee doses.

Programmable LED backlit resistive touchscreen with single, double, and continuous mode time-based dosing.

Sound-insulating thick metal case, rubber mounts, and gaskets combine to ensure grinding is a hushed affair.
KEY SPECIFICATIONS
Power: 110 V/310 W

Motor speed: 1350 RPM

Burr type: flat

Burr material: hardened steel

Burr diameter: 55 mm

Grind adjustment system: stepless

Dosing: hopper

Batch capacity: 12 oz

Body material: aluminum

Body colors: black, white, red, or chrome aluminum

Dimensions: 5" x 5.6" x 13.8"

Weight: 12.3 lbs

Manufacturer's warranty: 1 year
BEST PREMIUM ELECTRIC ESPRESSO GRINDER FOR THE HOME BARISTA/LIGHT COMMERCIAL USE
Mazzer Mini A Electronic Coffee Grinder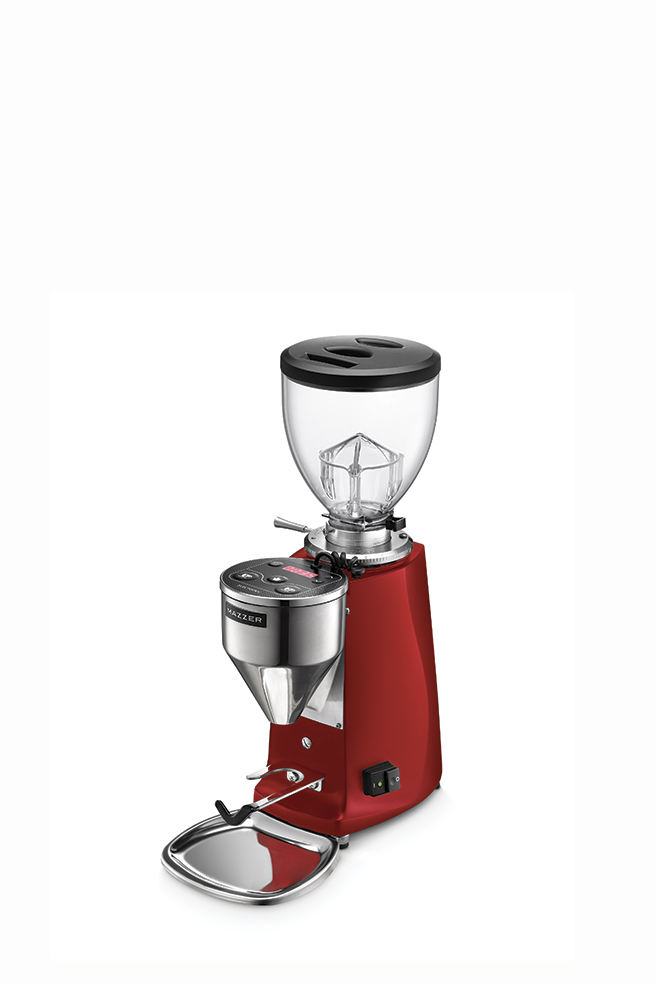 IN BRIEF
Considered the gold standard for home espresso and light duty coffee setups, the Mini is Mazzer's iconic grinder and Mini A our most sought-after by far.
It's polished, elegantly modern appearance alone make it worthy of display.
Renowned for its exceptional build quality, the Mini A's a workhorse of a grinder and thoroughly dependable, scarcely ever needing repair. In the same breath, surprisingly straightforward to get the hang of.
HIGHLIGHT FEATURES & BENEFITS
Supplied with updated 189D twin burrs but which can be swapped out for compatible SSP burrs.
Stepless collar provides endless grind sizes for utmost control. As well as uniform and exacting grounds without static cling or caking.

Dosing funnel push button panel can be programmed for 2 separate automatic doses, each timed for 1 to 99 seconds (in 0.05 second increments). Or else for grinding on demand.

Hands-free direct-to-portafilter grinding for pinpoint doses with reduced wastage of grinds.

Generously sized, low-profile hopper takes nothing to detach. Leaving the grinding chamber and burrs accessible for any-time cleaning or maintenance.
KEY SPECIFICATIONS
Power: 110 V/250 W

Motor speed: 1600 RPM

Burr type: flat

Burr material: stainless steel

Burr diameter: 64 mm

Grind adjustment system: stepless

Dosing: hopper

Batch capacity: 1.3 lbs

Body material: die cast aluminum

Body colors: black, red, white, silver, or aluminum

Dimensions: 18.5" x 6.25" x 7.75"

Weight: 22.5 lbs

Manufacturer's warranty: 1 year
BEST ELECTRIC ESPRESSO GRINDER FOR HEAVY-DUTY COMMERCIAL USE
Fiorenzato F64 EVO PRO On Demand Espresso Grinder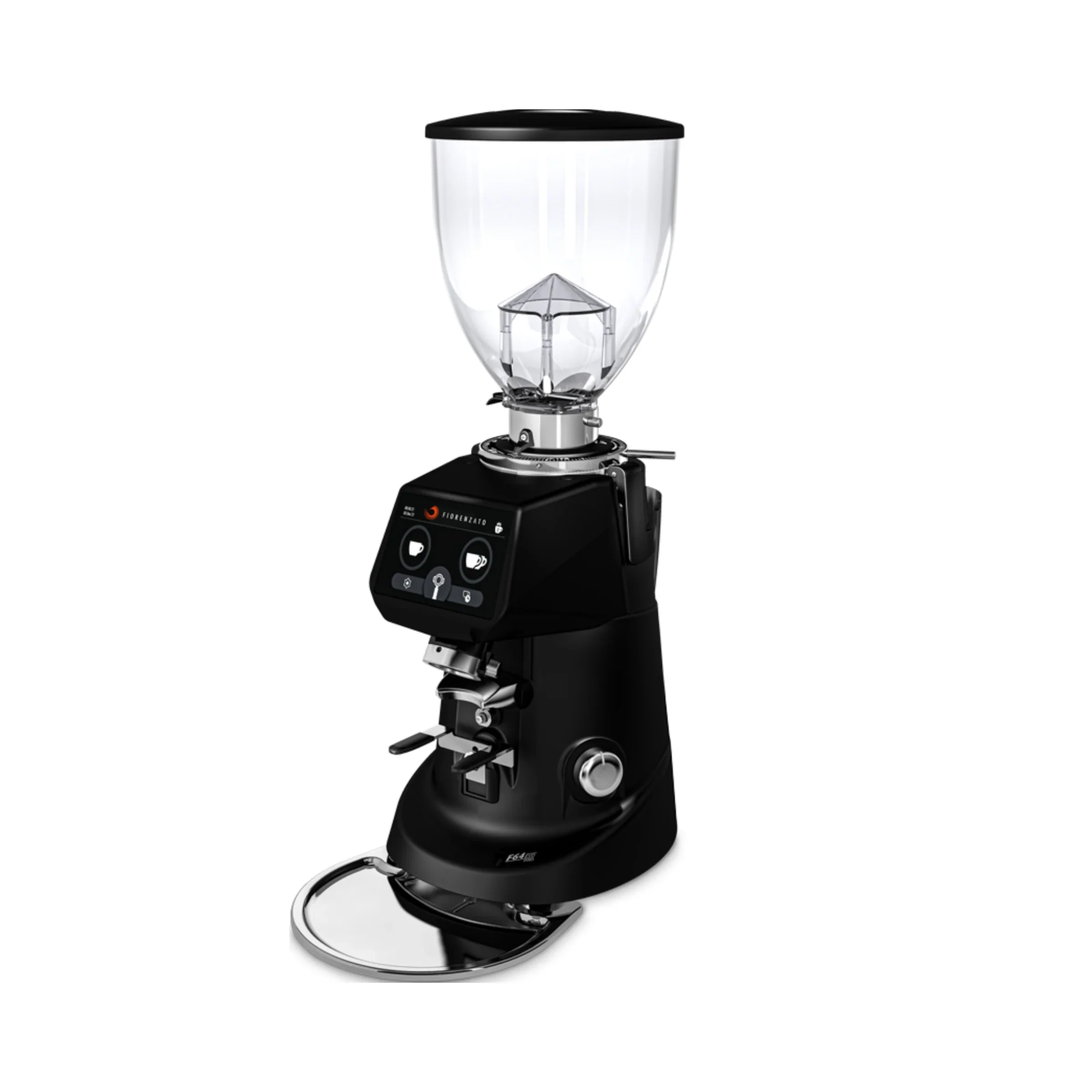 IN BRIEF
Voted the best all-round commercial espresso grinder, Fiorenzato's professional version of the F64 EVO is a barista's dream.
Sturdily and reliably manufactured, this high performing piece of kit is purposely built to handle the demands of medium to high volume coffee businesses.
Enjoying a classy Italian-inspired aesthetic and latest gen tech, the smart grinder comfortably pulls off optimal grinds near instantly time after time. With it's satisfying quiet operation a delightful bonus.
HIGHLIGHT FEATURES & BENEFITS
Burrs made from food-grade M340 steel and overlain with Red Speed titanium to greatly expand their lifespan.

Rotating ring nut allows continuous micrometric adjustment for grinding espresso, moka pot, and filter coffees.

Grind chamber houses a special blade to stop grounds from clumping. With parts easy to remove, cleaning the grinder mid-shift is quick and painless.

Large, user-friendly CapSense LCD touch screen for independent programming of doses, viewing coffee consumption stats, and checking the state of wear of the burrs.

Auto-cooling fan with integrated thermostat means the burrs never run hot so beans don't overheat when being ground.

Option to bundle the F64 EVO PRO with the PUQpress Gen 5 M4 Automatic Coffee Tamper.
KEY SPECIFICATIONS
Power: 110 V/350 W

Motor speed: 1550 RPM

Burr type: flat

Burr material: titanium-coated steel

Burr diameter: 64 mm

Grind adjustment system: stepless

Dosing: hopper

Batch capacity: 3.3 lbs

Body material: cast steel

Body color: black

Dimensions: 24.5" x 9" x 9.5"

Weight: 28.7 lbs

Manufacturer's warranty: 1 year
CONTINUE GRINDING AWAY
When crafting espresso, of course, using good quality coffee beans and a decent espresso machine are important. But it's the grinder itself that contributes most to the espresso brew.
So before investing in a coffee grinder for espresso, be mindful that it needs to be able to grind super fine. In addition to offering multiple micro grind adjustments in order to dial in precisely. Electric espresso grinders are the way to go for everyday use in the home or work place. With flat steel burrs, the bigger the better, par for the course.
Whatever your fine grinding needs, you'll find all this and more by having a browse through our collections of manual coffee grinders and electric grinders.
Then when you've gotten up to speed on the tools of the trade, why not work on your technique by pouring over the CoffeeRoast Co. guide on how to grind for espresso.
It can be a long road to master the art of espresso, admittedly. With the right equipment and practice though, you'll be pulling lip-smacking shots before you know it!