Nothing compares to the aroma and flavor of freshly roasted coffee. Are you a big coffee drinker seeking a revolutionary approach to elevate your coffee experience? If that's the case, let me introduce you to the Sandbox Smart Coffee Roaster, the prime at-home coffee roasting solution.
What is the Sandbox Smart Roaster?
It is a high-end home coffee roasting system that utilizes cutting-edge technology to offer you precise control over the heating procedure. This roaster's smart technology lets you regulate everything from the roast style to the temperature to the bean weight via a simple and easy smartphone app.
The software has features to create multiple roast levels, such as Light, Medium, and Dark Roast, as well as manual options to change roast factors, so users may have fun roasting their own unique tastes.
Its one-of-a-kind design ensures a flawless roast every time, owing to its airflow patented design mechanism. This technology guarantees that each coffee bean is roasted consistently and thoroughly, resulting in a perfect cup of coffee.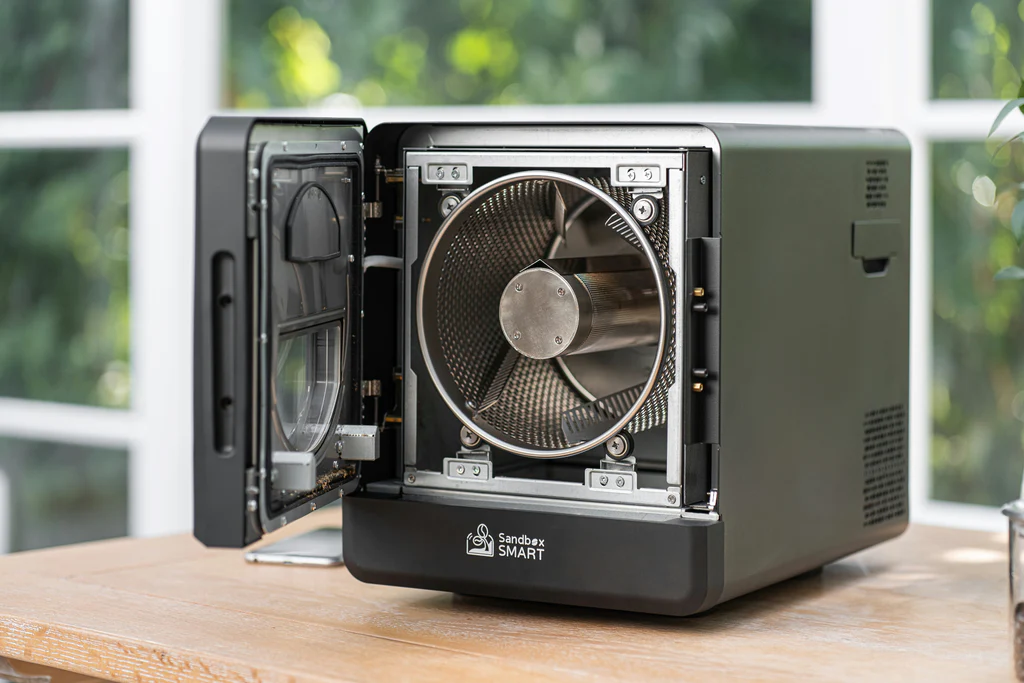 Sandbox Smart R2 Coffee Roaster
Introducing the popular R1 Coffee Roaster's upgrade. The capacity of the Smart R2 is one of the most major improvements; it can now roast big batches up to 550 grams (which is more than the average bag of coffee beans) to increase your stock or share with others.
The transparent big window lets you observe your beans' color while roasting is still in progress. A quartz heating tube and smartphone control make up the Sandbox Smart R2, which guarantees even roasting. The operation sound noise level is under 65 dB, which is as low as a speaking person's sound!
The Sandbox Smart R2 features a patented design of an inlet door and output latch, which make it easier to pour in and release the beans. Fan power, first crack and second crack timing, temperature, roasting length, and detachable drum speed may also be changed.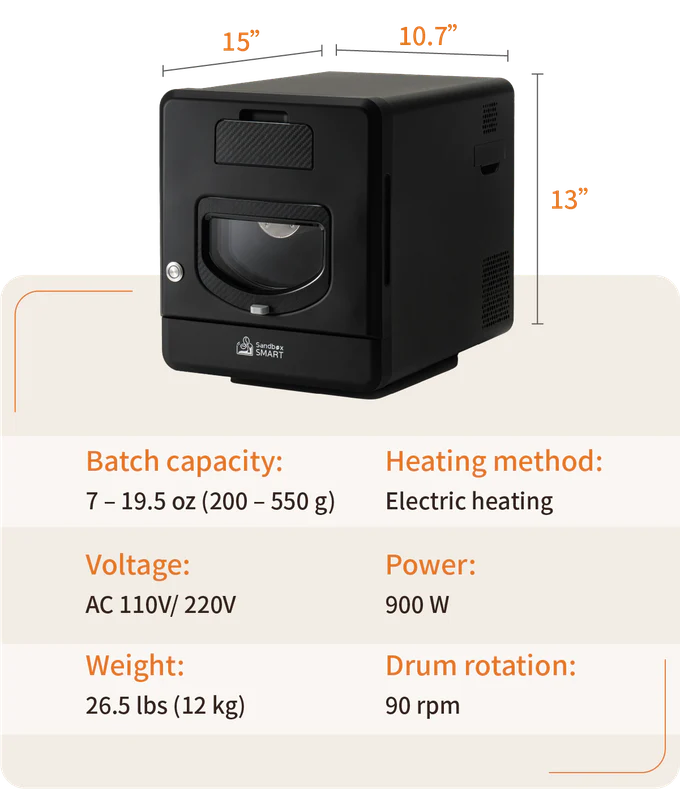 Specifications:
Dimensions: L 38 x W 27.5 x H 32.8 cm

Batch Capacity: Up to 550g (1lb)

Heating Method: Electric Heating

Voltage: 110V/220V

Power: 900W

Drum Rotation: 90rpm

Drum material: 304 Food grade stainless steel

Product Weight: 12 kg (25 lbs)

Connectivity: Bluetooth

Bean Tank Material: CNS316 stainless steel

Outer Case Material: Seamless aluminum alloy
How does the Sandbox Coffee Roaster work?
1. To begin, add your green coffee beans to the roaster. The Sandbox Smart roasting machine can hold up to 120 grams, which is enough for 10-12 cups of coffee.
2. The next step is to define your roast profile. The Sandbox Smart roasting machine lets you design and save up to ten distinct roast profiles, each with its default recipe settings for roasting time, airflow, and temperature.
3. You're ready to start roasting once you've loaded your beans and set your roast profile. It evenly roasts your beans using a combination of convection and conduction heating, and its unique technology allows you to track the progression of your process in real-time. It automatically cools your beans after roasting to minimize over-roasting and lock in taste and fragrance giving you the best well roasted beans.
4. Now, you can savor your freshly roasted coffee! The Sandbox Smart coffee equipment provides a degree of freshness and flavor that store-bought coffee simply cannot surpass.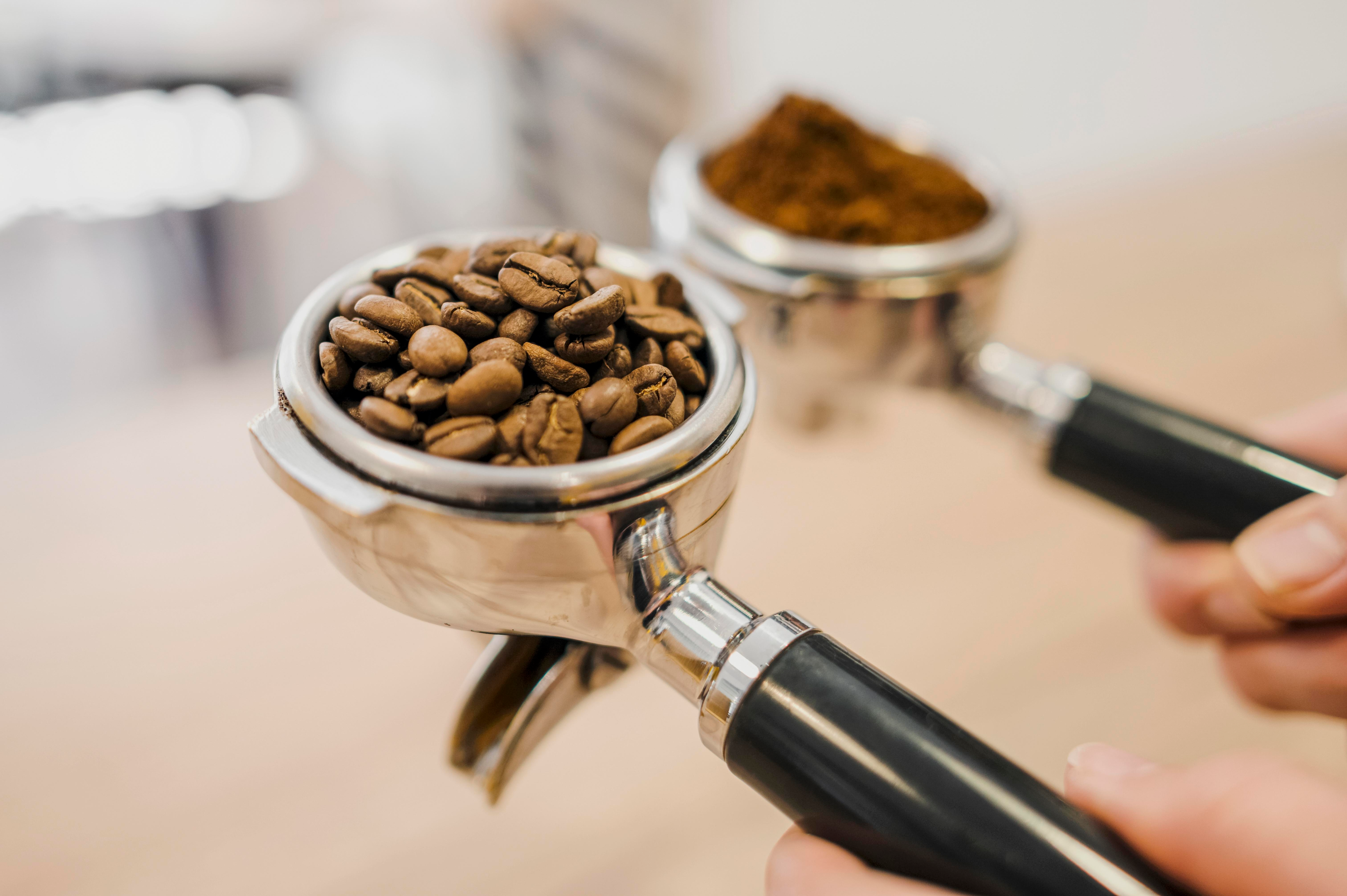 Why choose the Sandbox Smart Coffee Beans Roaster?
The innovative technology and elegant design allow you to roast your beans to perfection in the comfort of your own home. Its compact design allows it to easily fit into any kitchen, and the user-friendly interface makes it simple to prepare the ideal coffee every time.
Furthermore, the Sandbox smart technology enables you to monitor your roasting progress, and with the option to save up to 10 distinct roast profiles, you can experiment with different roast degrees and create a coffee that's entirely your own.
What sets the Sandbox Professional Coffee Roaster apart?
Consistent outcomes: It provides the best flavor and consistency each and every time you roast thanks to its cutting-edge technology and precision control. You can be certain that each batch of coffee will taste exactly as delicious as the previous one.

Precise control: It provides unprecedented roasting control. With its innovative technology, you can precisely regulate the airflow, temperature, and other factors, giving you total control over the flavor, color changes and aroma of your coffee.

Eco-friendly: It is also environmentally friendly, as it consumes less energy and creates less waste than traditional roasters.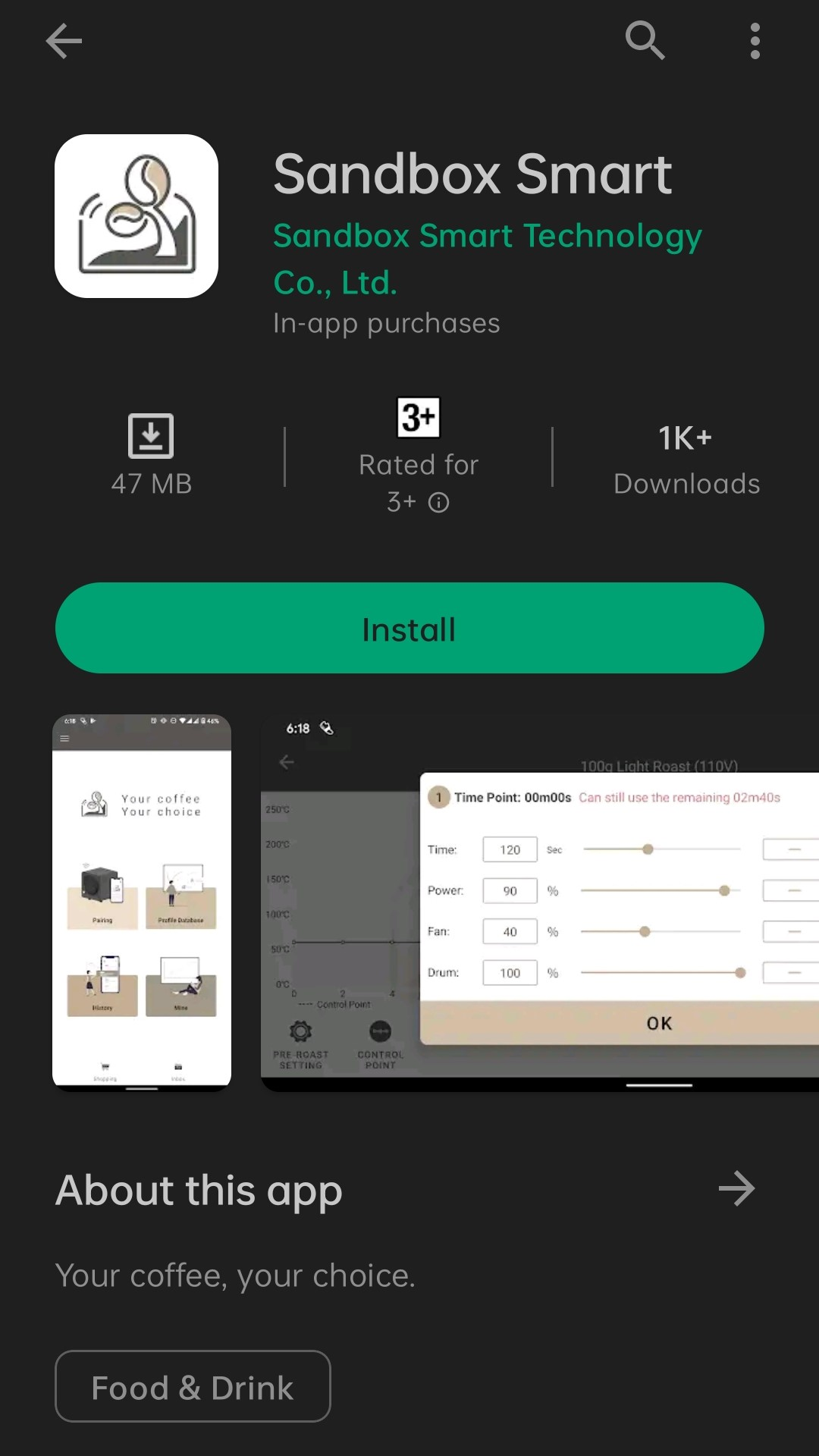 Sandbox smart app: The roaster's smart technology app lets you manage the roasting procedure from your phone or tablet, making it exceptionally simple to operate. The Sandbox roaster connects smartphones with Bluetooth.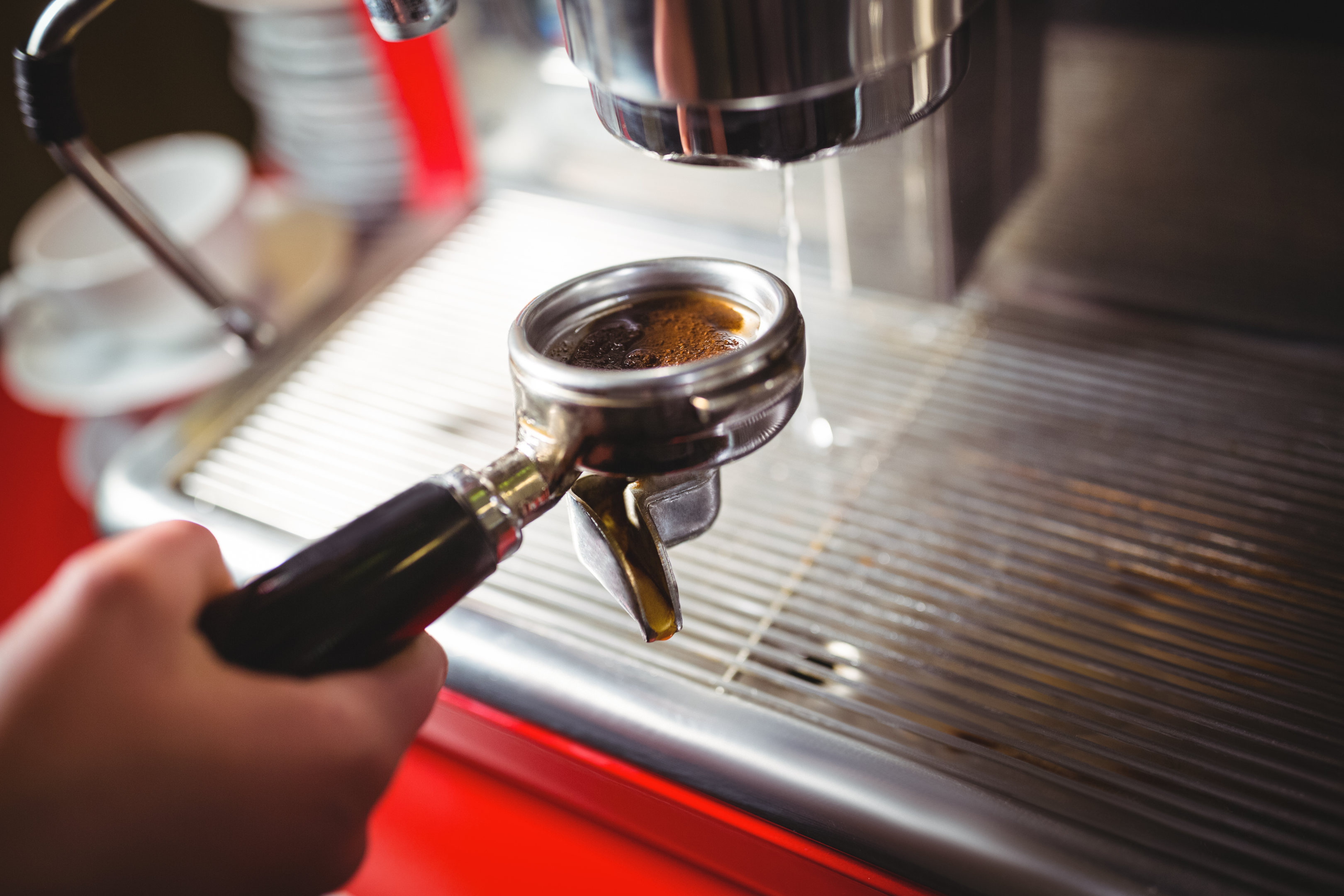 Things to consider when you want to buy the Sandbox Smart Coffee Roaster
Prices
The price of the Sandbox Smart roasting machine is among its biggest drawbacks. The roaster's price makes it less affordable for coffee lovers on a tight budget than certain other coffee machines now on the market.
Expectations:Users should be prepared to spend more on high-end features and exceptional performance when purchasing high-quality coffee roasters.
Reality:The Sandbox may not be a viable option for all customers due to its higher or lower price per point relative to other coffee roasters.
Dependent on technology
Because of how much the Sandbox Smart app depends on smart technology, there may be certain difficulties for some users. The roasting mechanism could be impacted by any connectivity issues or technical problems.
Expectations: Users could anticipate a high-end machine to be dependable and devoid of technological problems.
Reality: Although the Sandbox roasting machine is built to last and perform well, every technology-based device has the potential to run into connection or technical troubles. Nonetheless, if users encounter any problems, the company provides support and technical support.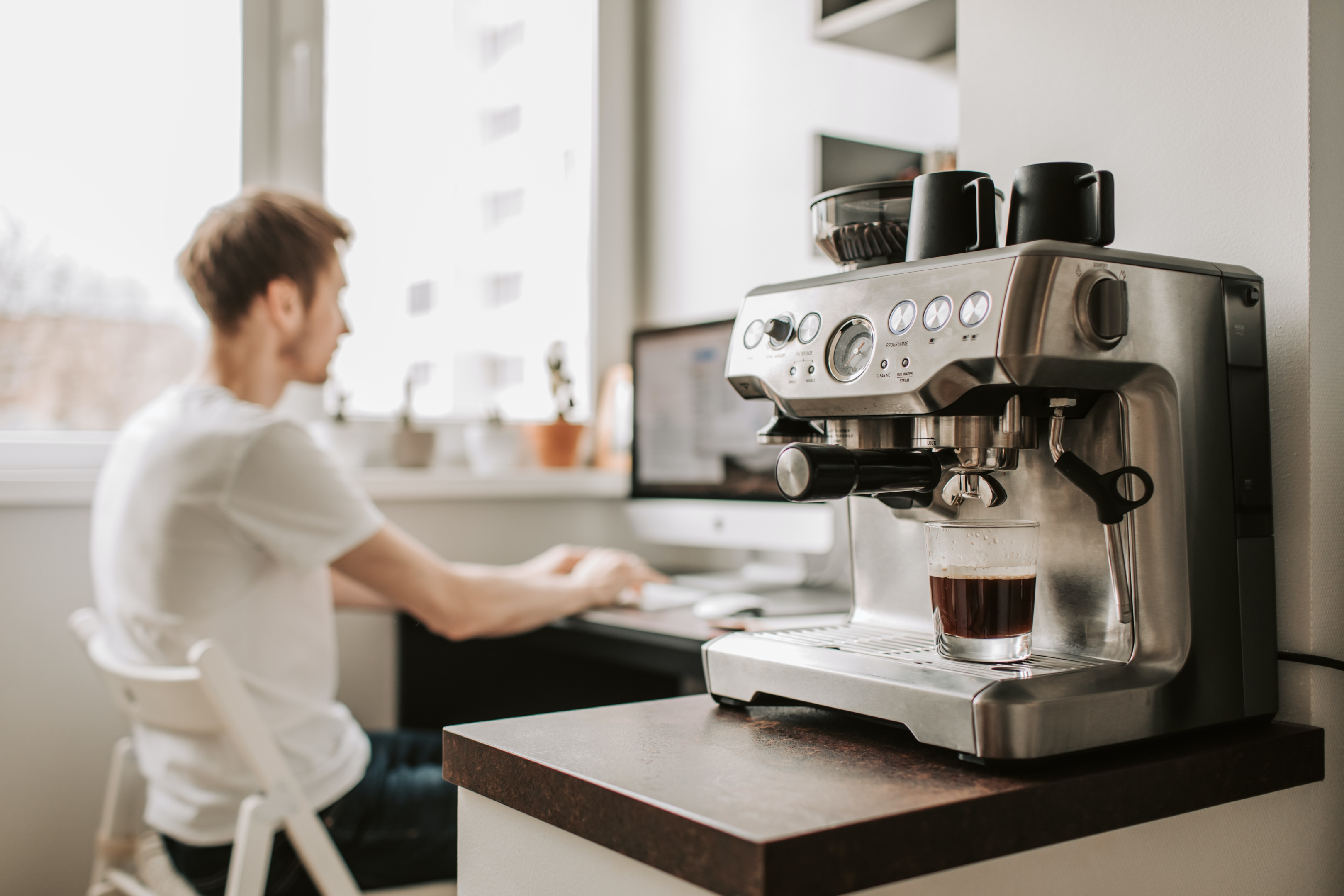 Limited bean capacity
For bigger homes or those who want to roast larger amounts of different kinds of coffee, the Sandbox R1's small capacity might not be adequate.
Expectations: Users may anticipate that a high-end roasters will have a huge bean maximum capacity, enabling them to roast many coffee batches at once.
Reality:Although the Sandbox Smart roasters easily operate on a small batch of beans than some other roasters, it remains a perfect pick for small spaces because it is portable and compact.
Availability
As a newer product, the Sandbox Smart might not be as readily accessible as other home coffee roasters on the market.
Expectations: Consumers may anticipate having little trouble spotting and purchasing the Sandbox Smart coffee roaster.
Reality: The company allows customers to order the roaster straight from their website or other retailers.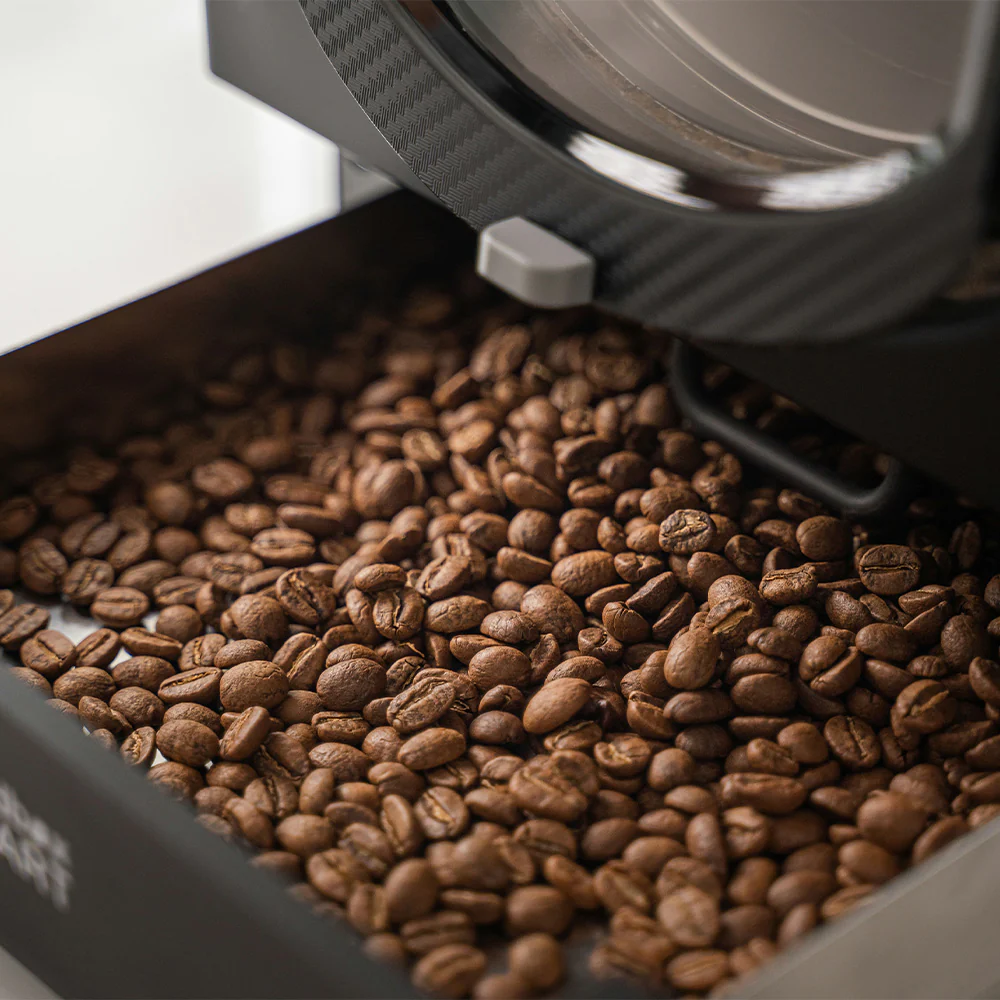 Where can you buy a Sandbox Roaster?
The Sandbox Roaster may be purchased in Coffee Roast Co's wide range of coffee roasting tools and equipment.
Overall, the Sandbox Smart Coffee Roaster is a powerful tool that allows you to elevate your coffee experience by providing you full control over the roasting process. Take advantage of the chance to make the ideal cup of coffee in the convenience of your own home.