Imagine a world without coffee—sounds unbearable, right? For those who refine coffee drinking to an art form, each cup is a masterpiece in its own right. And if you're on the hunt for the best gifts for coffee lovers this holiday season, you've come to the right place.
Coffee is more than just a drink; it's a lifeline, a comfort, and often the unsung hero of our day. With the holiday hustle and bustle fast approaching, you may be wracking your brain about what to get the coffee enthusiast or roaster in your life. This article is your one-stop shop for a curated list of gift ideas perfect for anyone serious about their java. Let's get started!
Great Value Gifts Under $200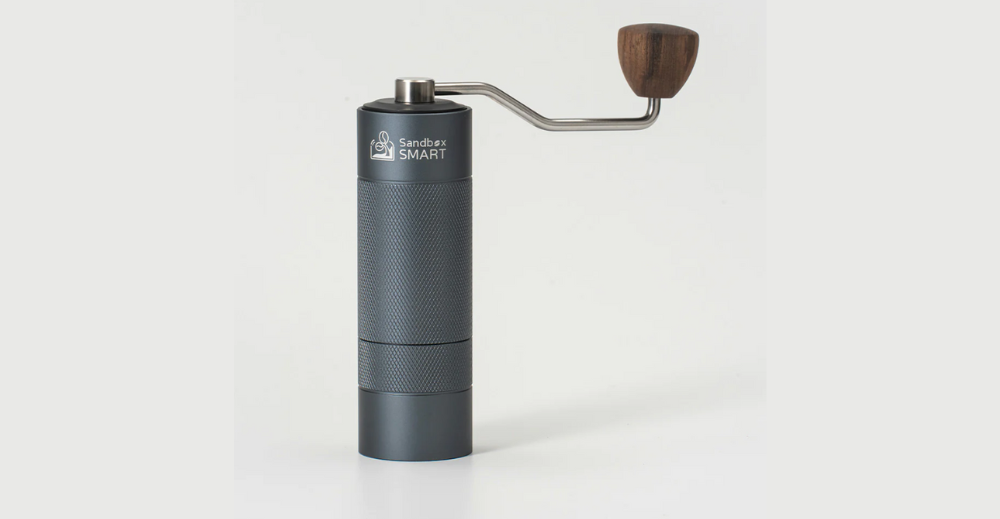 The Sandbox Smart G1 Coffee Bean Grinder is a prime candidate to gift the coffee lovers in your life. It comes with a chic natural wooden handle that not only adds a touch of class but is also super ergonomic.
This grinder sports a 38MM Stainless Steel Conical Burr Cutter designed to minimize heat while grinding. That means all those complex flavors and aromas in your beans go nowhere but into your cup.
The grind settings are versatile enough for everything from espresso to French Press. It has a spacious 35g capacity, so you can grind enough for a gathering or enjoy not reloading after every cup.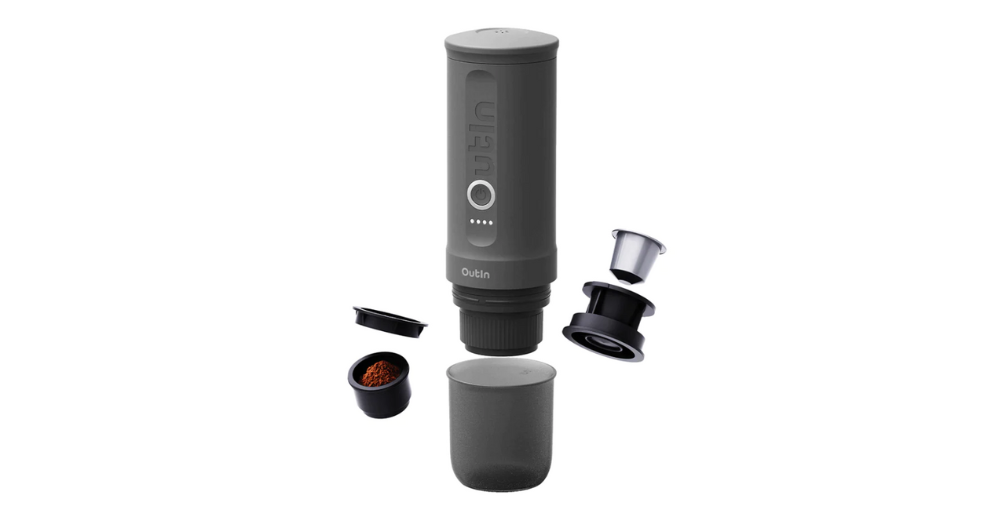 This holiday, make sure the Outin Nano Portable Espresso Machine is at the top of your list. Wrap it up, put a bow on it, and gift it to a fellow espresso enthusiast! It's perfect for those craving a good espresso while on a camping trip, in the office or in a hotel room.
This sleek, travel-friendly machine that's no bigger than a water bottle is space-efficient, compatible with a Nespresso pod, and easy to use. With a water capacity of 80 ml and a ground capacity of 6 g, it's just the right amount for that perfect single shot. And with its 90W power and a robust 7500mah lithium battery, it's ready to go whenever and wherever you are.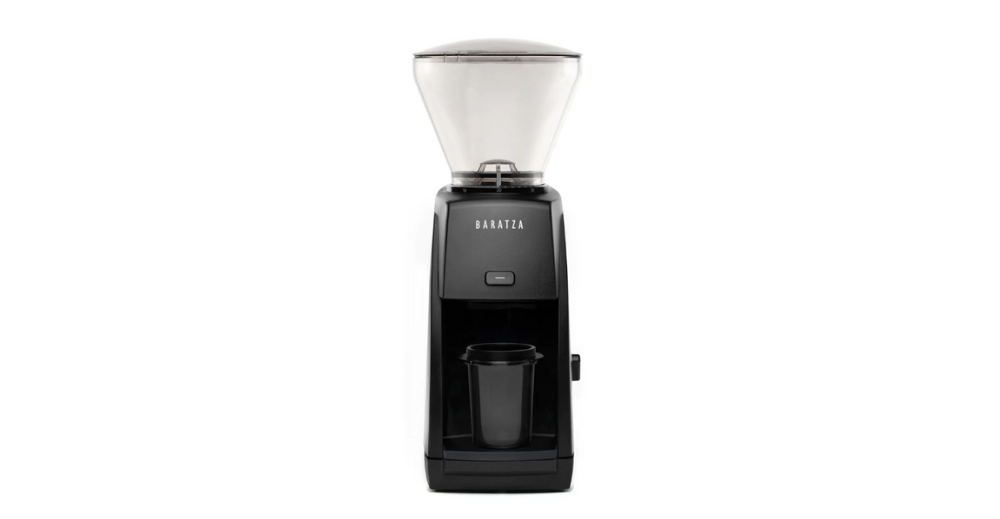 If you're still wondering what the perfect gift for an espresso-loving friend or family member might be, the Baratza Encore ESP Espresso Grinder could be the answer.
This grinder caters to espresso aficionados and drip coffee lovers with its dual-range grind settings, spanning from super-fie espresso to coarser filters. The 40mm M2 steel conical burr ensures every grind is consistently excellent, promising a mind-blowing instant coffee every time.
It also includes a 54mm anti-static dosing cup and a 58mm adapter, making it perfect for any home barista setup. And if you're into manual brewing, switching to the classic dosing bin is a piece of cake.
Mid-Range Gifts $200 - $500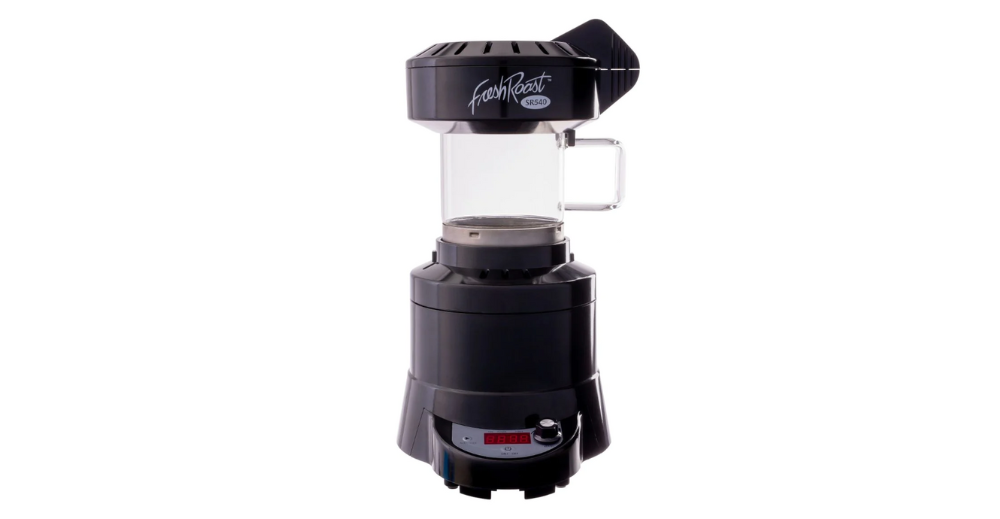 We have a holiday curveball that will take home coffee roasting to new heights - introducing the Fresh Roast SR540 Coffee Roaster, the latest gem in the SR coffee roaster lineup. This is the kind of holiday present for the coffee lover in your life that will transform their coffee game long after the holiday lights are down.
What's the big deal? This roaster can handle four scoops or 120 grams of coffee. That's plenty to keep you caffeinated or share the love with family and friends. It also has an all-new control board - push and turn the knob to adjust the heat, fan, and time efficiently. It's got a real-time temperature readout. You know exactly how hot things are getting.
This machine boasts nine levels of heat adjustment. The fan's got a wide range of adjustments, too. And you can change the default start settings to suit your roasting style. The best part? There's no need to be a computer whiz. This roaster keeps things simple. No computer control is required.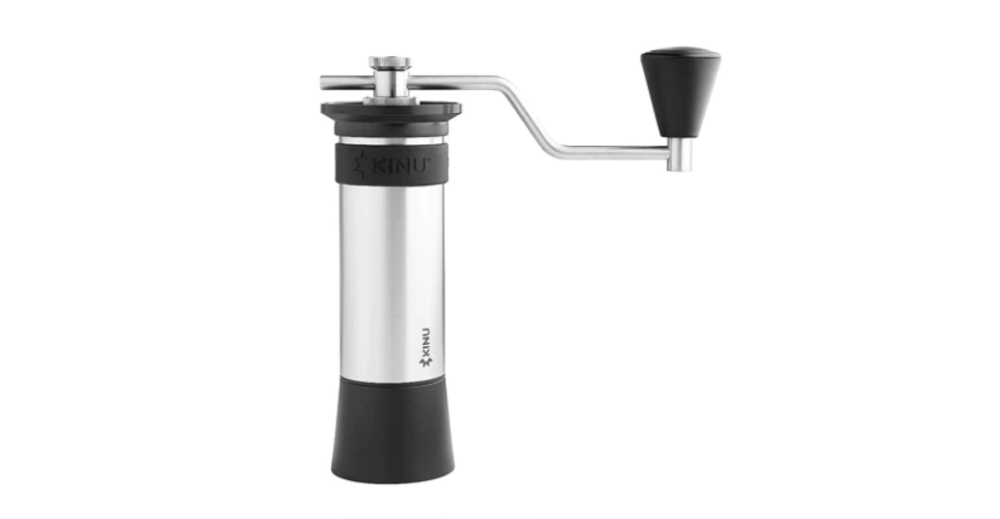 Are you still scratching your head over the perfect gifts for coffee lovers? Let's cut to the chase—you can't miss the Kinu M47 Phoenix Manual Coffee Bean Grinder.
This grinder takes ground beans to a whole new level. Equipped with Black Fusion coated 47mm conical burrs, your coffee grounds will come out consistent and flavorful, every time.
The M47 Phoenix stainless steel body is built to last, making it a worthy investment for any coffee lover. With its high-precision axis alignment, you're guaranteed an effortless grind, minus the guesswork. The silicon grip ensures your hands stay cramp-free, even during those marathon coffee brewing sessions.
From Turkish to French press coffee, the M47 Phoenix handles it all and then some. The grinder features food-safe ABS plastic parts, ensuring your favorite drink is delicious and safe to consume. To top it all off, it comes with an EVA Travel Hard Case.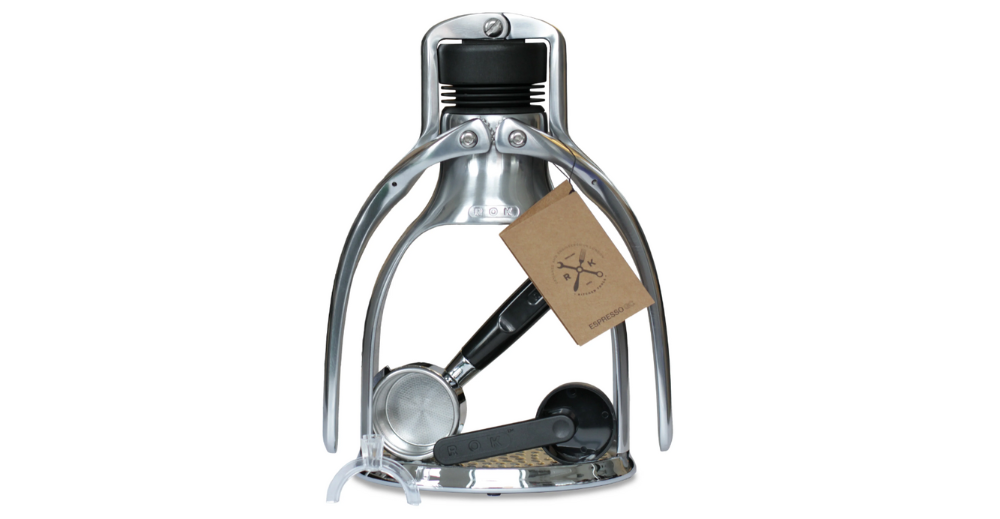 Check out the ROK Portable Espresso Maker, a great gift that will make any coffee lover swoon this holiday. This is not your average espresso coffee maker. This is a minimalist masterpiece that'll get you hooked from the first pull.
The ROK Espresso Maker is durable, so you can trust it to keep pumping out incredible shots for years. And with those elegant double arms, you can produce 5-10 bars of pressure—that's just the right power you need for a perfect espresso.
With this espresso machine, you're sipping on piping hot, artisanal espresso in just 25 to 30 seconds. No more waiting for your machine to heat up; add your choice of ground espresso and hot water, and you're good to go.
This espresso machine is as eco-friendly as it comes. No electricity is required, so it's perfect for those wanting to make a smaller carbon footprint.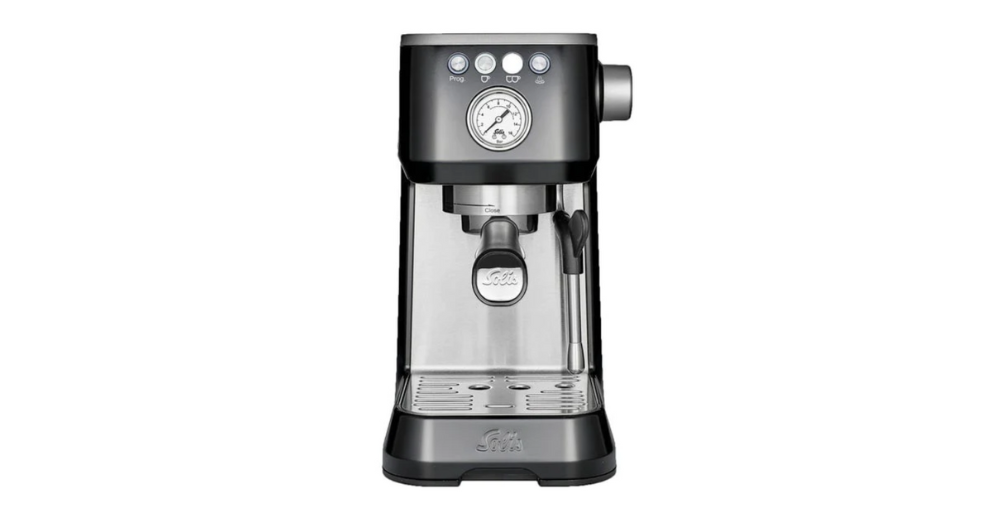 The Solis Barista Perfetta Plus Home Espresso Machine can seriously impress the java junkie in your life this holiday season. Forget about average coffee makers; this beauty delivers steaming hot, barista-level coffee right in the comfort of your kitchen.
This machine is versatile if you want to go from coffee hot to cold brew effortlessly. It's easy to switch gears and satisfy all your caffeine cravings.
The Barista Perfetta Plus is packed with features that will blow your mind. The integrated manometer lets you monitor extraction pressure, ensuring each cup is perfectly balanced. And if you're in a rush, no worries—this speed demon is ready to brew in just 40 seconds.
And for those of you conscious about energy consumption, this machine comes equipped with an energy-saving mode.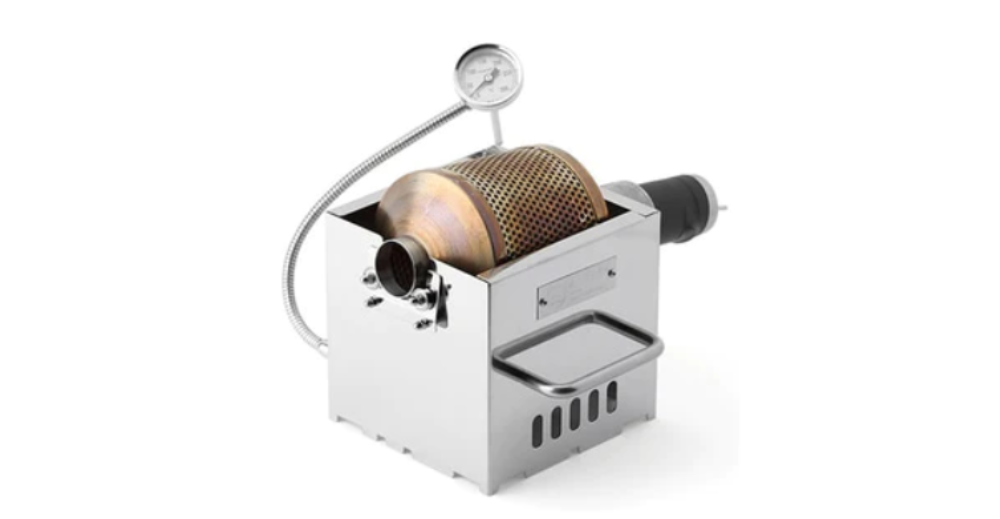 Let's face it: instant coffee just doesn't cut it when you want a genuinely flavorful cup. And while iced coffee is a treat, it's a different ball game when you can roast your beans. That's where the Kaffa Mini Coffee Roastercomes in. It's a home coffee roaster that's as compact as it is powerful, allowing you to roast up to 250g of coffee beans.
This espresso coffee maker combines style, functionality, and the pure joy of great coffee, which makes it an ideal gift this holiday for coffee drinkers. Crafted from durable stainless steel, it's built to last, easy to clean, and ultra-portable, perfect for your home coffee setup or for those who love a camping trip. Just add a gas burner, and you're all set to roast.
Premium Gifts $500 Up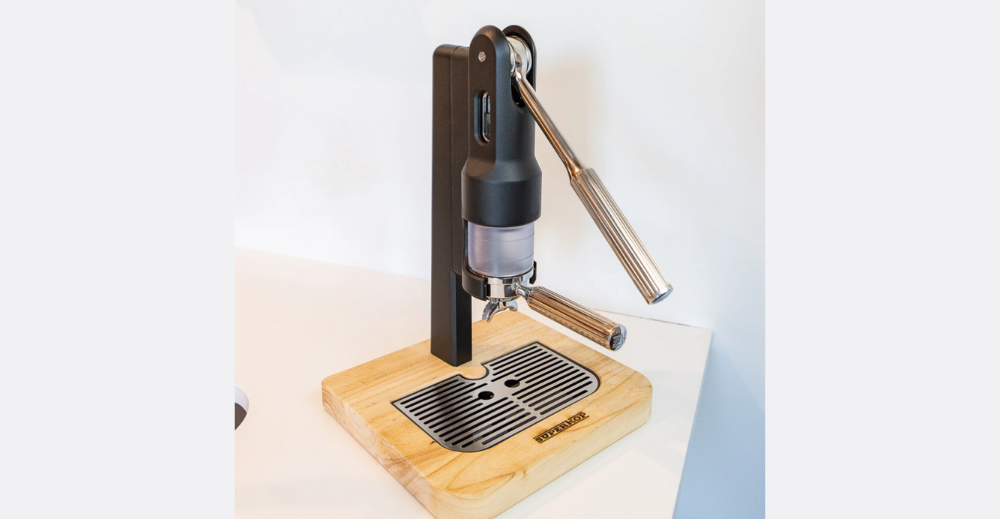 Get ready to make your favorite coffee drinker's heart skip a beat this holiday with the Superkop Manual Espresso Maker - a blend of style, sustainability, and coffee perfection.
It's the machine that invites you to slow down and savor the process. It's powered by you, not electricity, making each cup a truly personal craft.
Whether they're a minimalist who loves clean lines and sleek designs or a pop-of-color personality, a Superkop fits the bill, available in chic red, crisp white, or the ever-so-classy black. It's flexible, too! Mount it on the wall for that "I'm a barista" vibe, or pop it on the countertop with the sturdy stand provided for that traditional espresso pull.
The Superkop is not just about good looks. It's a lever-operated powerhouse, allowing you to tweak the pressure like a pro and extract espresso shots that dance on your palate. You can feel the quality with every pull of the lever—25 seconds to a full-bodied, aromatic espresso that might make you forget there's a world outside your mug.
Standing proudly at about the size of a blender and built to outlast the apocalypse, this aluminum and stainless-steel marvel comes with a 58mm portafilter and baskets for single and double shots. So, if it's a solo espresso or a round of cappuccinos for brunch, you've got the flexibility at your fingertips.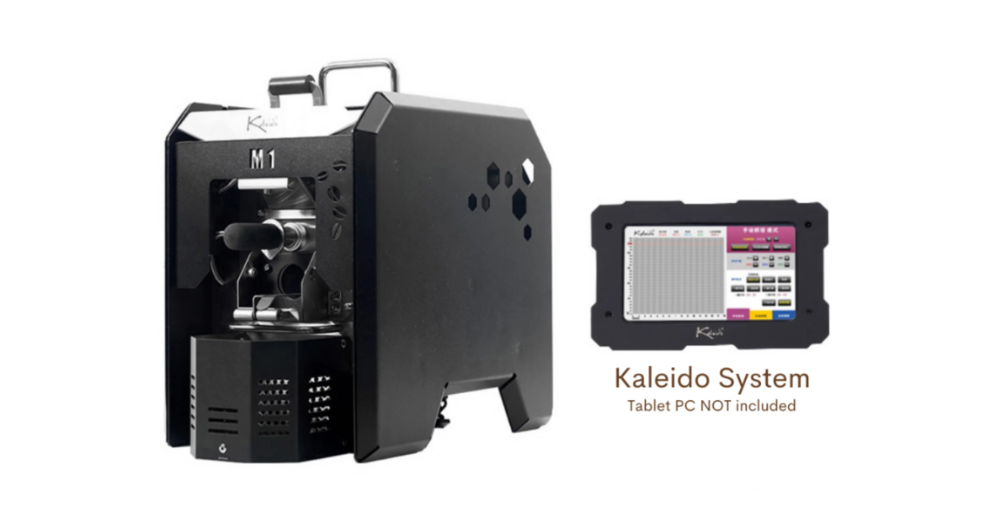 You don't want to miss this - introducing the Kaleido Sniper M1 Electric. The coffee roaster that's going to transform every coffee drinker's world. Forget the standard coffee mug or coffee pods. This is the gift that will impress the coffee drinker in your life.
This machine uses an electric heating system that cools fast, ensuring every bean is evenly and perfectly roasted. No more leftover coffee sitting around; you'll want to drink every last drop.
This roaster boasts a real-time temperature profile, showing how different temperatures bring out unique flavors in your coffee. And thanks to its automated features, you can set your roasting schedule and forget it.
And speaking of tech, you won't believe how user-friendly this machine is. It comes with a 7-inch Smart Touch Screen Panel that offers both manual and automatic roasting modes, plus a whole range of intelligent functions. Think of it as your coffee-roasting assistant.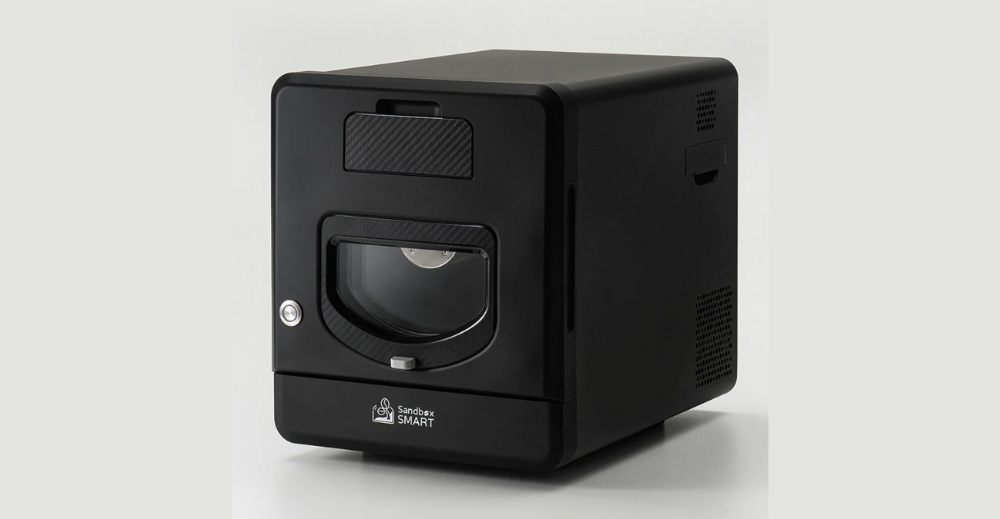 Your quest to find gifts for coffee lovers might end here because of this true gem - the Sandbox Smart R2 Coffee Roaster with Coffee Bean Cooler. This will make you a holiday hero in the eyes of any caffeine enthusiast.
The R2's simulated direct-fire heating is like a dream come true for those who are super picky about how their perfect brew should taste. Are you a fan of cold brew or iced coffee? Well, now you can roast your beans to the exact flavor profile you love. Tweak those temperatures and times until your beans are as unique as you are!
The R2 lets you roast up to 550 grams of coffee beans in one go, perfect for batch brewing. It keeps things super simple with its patented easy load and release system. Even if you're a newbie, you'll be roasting like a pro in no time.
Now, if you're a coffee geek, this roaster has an app that records all your roasts. If you want that amazing roast you nailed last week, just check the app, and you can replicate it down to the last bean.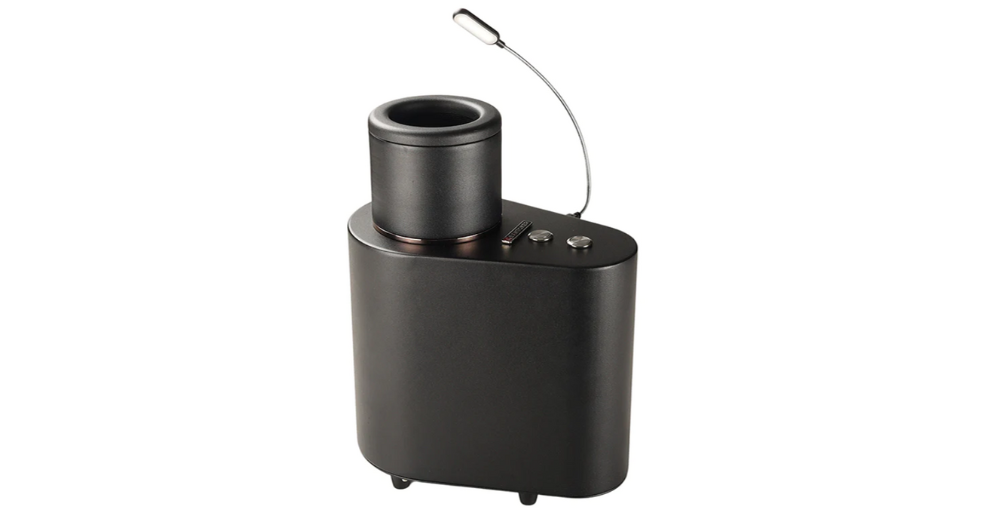 The hunt for the perfect gift for the coffee lover in your life is almost over, and we've saved the best for last. Introducing the Santoker Q20 Portable Smart Coffee Roaster, a coffee enthusiast's dream come true.
Imagine the joy of roasting your beans to perfection in a full hot air roaster that you can control with an app right from your phone. And talk about convenience - this thing has a separate chaff collection module, which means cleaning up is a piece of cake.
But here's the twist - it's portable. It even comes with a suitcase, so your lucky gift recipient can take their roast show on the road. They'll get precise control over temperature and time, which is a total win for getting that roast right. It's designed to be super easy to maintain, and it's shockproof, which means it's ready for whatever life throws its way.
And for those who can't stand the wait – this bad boy can roast up to 200 grams of beans in a snappy 2-6 minutes. That's less time than deciding on a coffee shop order! So, if you want their eyes to light up brighter than holiday lights, the Santoker Q20 is the way to go.
Coffee Thoughts to Takeaway
Well, there you have it — a little insight into the delights of caffeinated bliss. We've had quite the journey exploring the delights of some top-notch coffee gear, perfect for giving this holiday season.
Don't let the hunt for the best gifts for coffee lovers end here. Explore our curated selection of coffee roasters and grinders that will delight any coffee lover, from the novice to the connoisseur. And as you explore, we'd love to hear from you! Got a question about a product? Curious about a particular roast profile? Leave us a comment or drop us a message. We're here to help you find the perfect match for your coffee needs.
Let's keep this coffee convo going and make every cup a celebration!